After the quiet of summer, Abbot's Hill was full of excitement yesterday as the Class of 2023 collected their results. The Theatre was full of emotion and excitement as families discovered the results of years of hard work.
Abbot's Hill School is elated to share the GCSE success of the class of 2023. In an era where metrics dominate narratives, we remain resolute in our philosophy: journey over destination, thinking over memorising, creativity over conformity and passion over pressure. The individual journeys, dreams, and aspirations of our students are paramount.
Nevertheless, the achievements reflected in the raw data cannot be overlooked. An impressive 95% of all GCSE grades this year ranged between 9-4 (formerly A*-C) , compared to the national average of 68%. An amazing 42% of all grades were between grades 9-7 (formerly A*-A) compared to the national average of 22%.
We take special note of pride in the remarkable value-added score that many of our pupils achieved, attaining an average of two grades higher across their subjects compared to the national profile of pupils of the same ability. This underpins our knowledge that at Abbot's Hill, potential is nurtured and excellence is cultivated.
Head of School, Kathryn Gorman, said "For this cohort of Abbot's Hill students, today's results represent a fantastic outcome. They were in Year 8 when the covid pandemic disrupted their schooling but, despite the challenges they have faced, they have risen to the challenge and should be very proud of their achievements. It has been a privilege to see how they have blossomed into young people of character who will now leave Abbot's Hill and head on to a wide array of 6th Forms and Colleges to continue their educational journey: I wish them every success. I am delighted for the students, their parents and the teachers, all of whom have worked so hard to achieve these results"
Yet, amidst the percentages and grades, we never lose sight of the individual tales of tenacity, dedication, and passion. To truly encapsulate the spirit of our students, we'd like to spotlight a few remarkable individual journeys from this year: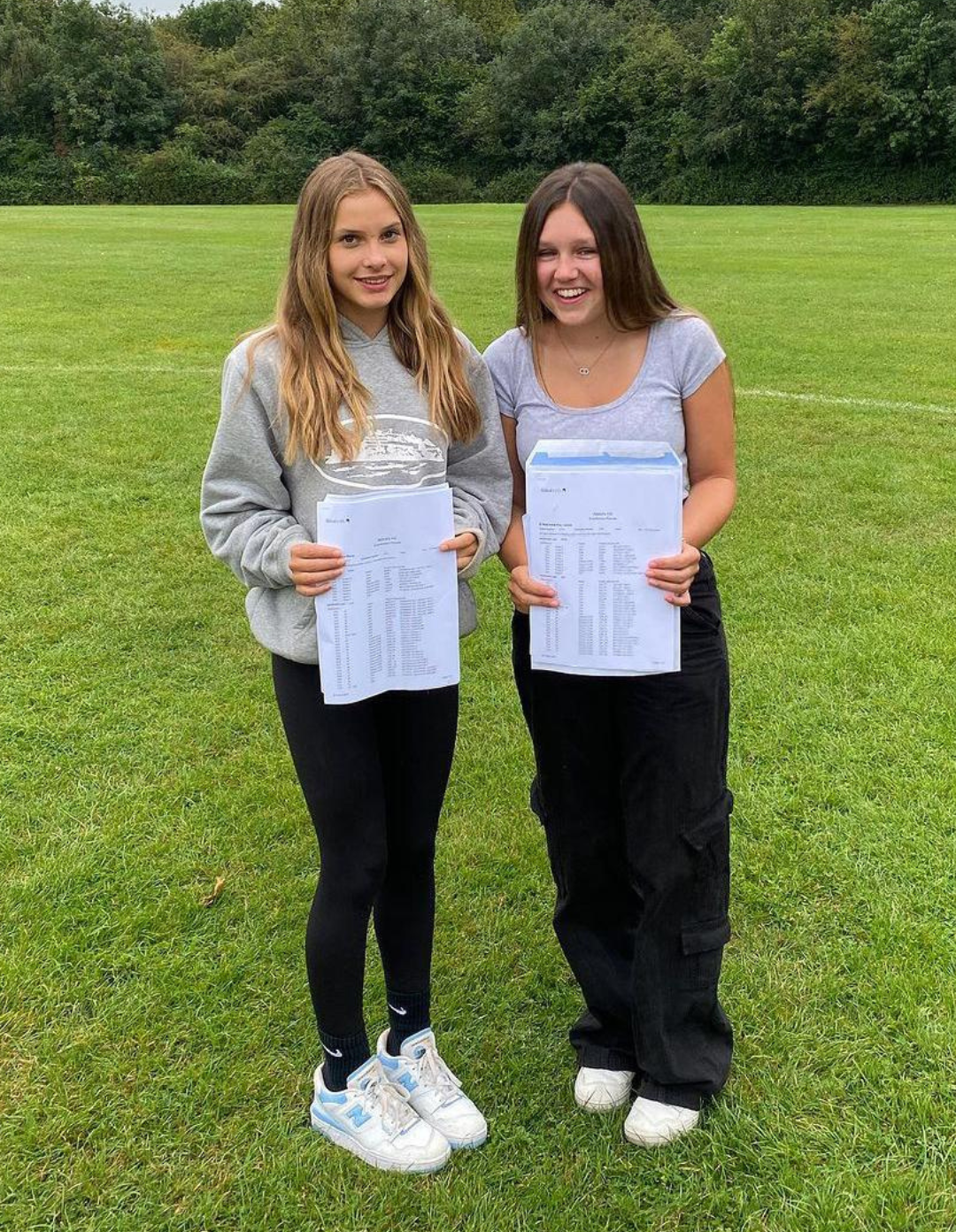 Evie joined in the Prep school and she's now set to embark on a new chapter, where she'll delve into Economics, Geography, and Spanish. Yet, Evie's story isn't just about academic milestones. Throughout her time here, she's embraced every opportunity, proving herself not just in the classroom but on the field as well. Whether it was showcasing her skills in lacrosse, football, or netball, Evie has been a force to be reckoned with. Those who know her laud her for her innate kindness, an unwavering calm demeanour, and an infectiously positive mentality. As her GCSE results came in, it was no surprise to see Evie's name shining brightly. She achieved exemplary grades across the board, with a notable achievement of four grade 9s.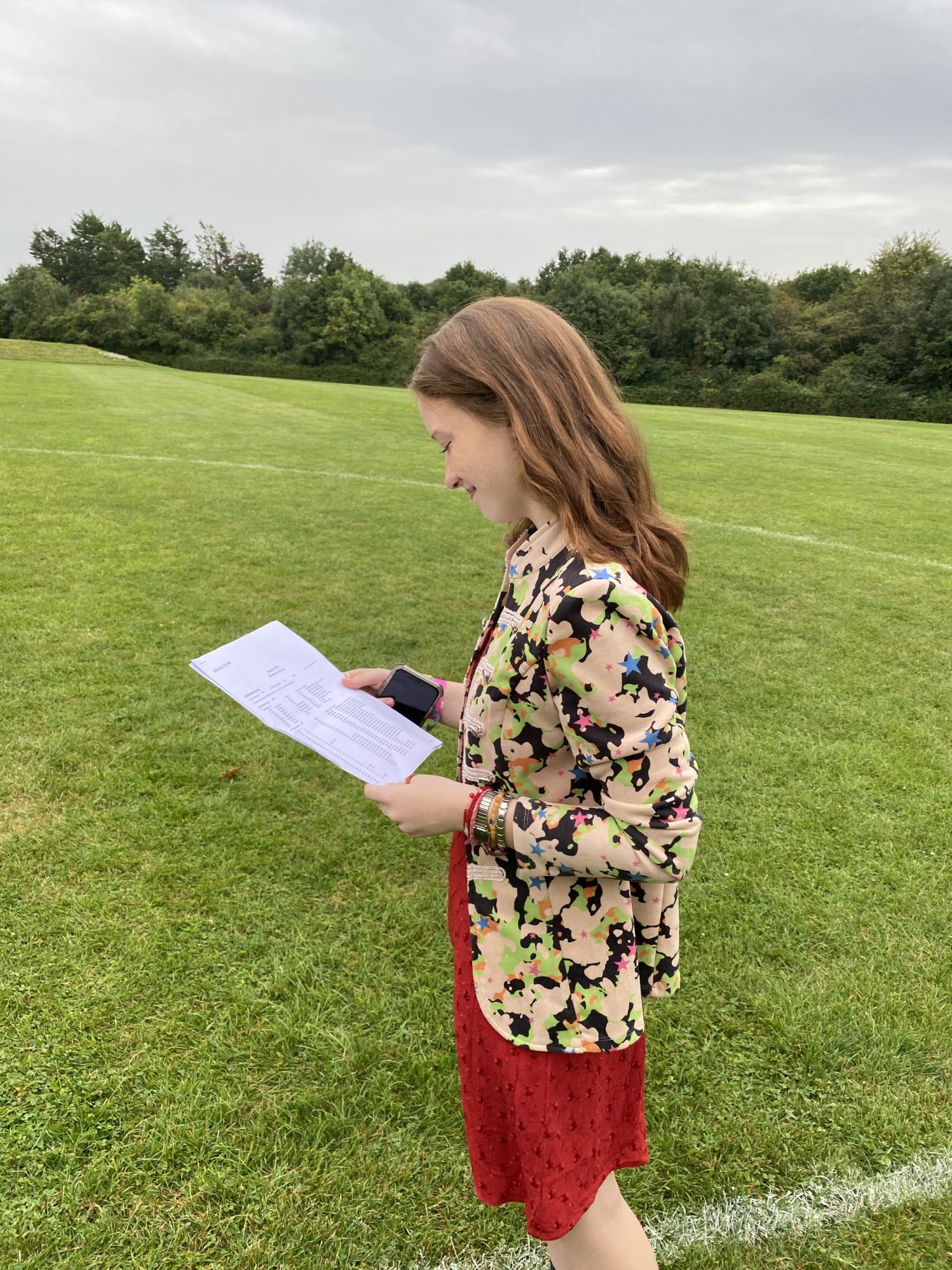 Emily began her Abbot's Hill adventure in Year 7, eventually, she took on the esteemed role of Head of School. A leader by example, she's infused every role, every challenge with an infectious zest for life and an unwavering commitment to excellence. Her unique blend of diligence and an ability to find joy in every endeavour set her apart. It's in the realm of music where Emily truly shines brightest. With an undeniable talent and a passion that resonates in every note she plays, she's captured the hearts of many. Aspiring to compose for the screen, Emily's GCSE music performance was a testament to her potential, revealing a budding artist with the talent to achieve her dreams. As Emily moves forward, she will be delving deep into her passions, studying Music, Media, and English Literature at A-level.
From the moment Grace stepped into Abbot's Hill in Year 7, her dedication to sports was evident. Among her many athletic pursuits, it's in cross country where she truly distinguished herself, competing at an impressively high level and setting new standards for those who followed. Balancing such high-level sports with schoolwork is a challenge in itself. No matter how demanding her schedule, she's consistently shown an innate ability to make time for others, providing support, encouragement, and friendship. As Grace transitions to her next academic chapter, she's chosen a blend of subjects that showcase both her analytical prowess and her passion for understanding the broader world. With plans to delve into Economics, History, and Politics, Grace is poised to bring the same discipline and dedication to her studies that she displayed on the running tracks.
Our students have showcased not just academic prowess, but resilience, adaptability, and an undying spirit of inquiry. Abbot's Hill School remains committed to fostering an environment where every student's unique skills are celebrated. We are a greenhouse, not a hothouse.
A huge thank you to the class of 2023, who will continue their academic growth in a wide array of Sixth Form institutions chosen to reflect their individual goals, interests and passions. Students will be joining school such as Berkhamsted, St Albans High School, RMS, Ashlyns St Albans School, Tring School, St Columbas College and Parmiters, where they will be studying a range of subjects from Economics to Photography and Classics to Physics.
If you are interested in finding out more about how Abbot's Hill supports each individual to achieve their best, book a space at our Open Day in September or book a personal tour and meeting with our Head, Kathryn Gorman, via our website.