Year 6 have been learning about rationing during WWII in their history lessons.
Have you ever cooked with rations before? That was the challenge set recently for Year 6! Pupils were given a ration cook book and asked to see what they could whip up with the rations they would have received during the war.
Rationing began on 8th January 1940. An adults weekly rationing would have been the following:
Bacon & Ham         4 oz
Other meat            value of 1 shilling and 2 pence (equivalent to 2 chops)
Butter                      2 oz
Cheese                     2 oz
Margarine              4 oz
Cooking fat            4 oz
Milk                       3 pints
Sugar                    8 oz
Preserves            1 lb every 2 months
Tea                        2 oz
Eggs                     1 fresh egg (plus allowance of dried egg)
Sweets                  12 oz every 4 weeks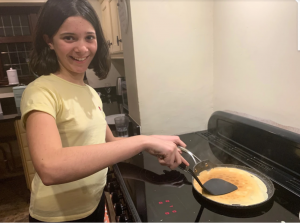 Sabina tried out the ration pancakes, they looked great!
Sophie tried the eggless chocolate cake; she definitely felt it would benefit from some cream.
It was great to get the girls thinking and understanding the difficulties that rationing brings, especially during a national lockdown. History shows us that as a nation, we have faced hardships before. We are pleased that the ability to connect with our pupils remotely has allowed them the opportunity to learn creatively from home.